Mounts
Basic Mounts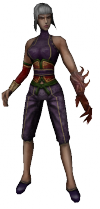 You can ride these mounts from level 75 onwards, like a horse. They have advantages whilst mounted that you can use whilst on their backs like horse skills and offer characters a certain additional amount of defense or strength. It can be used only for 5 minutes. If the time expires, the mount disappears. Note: if you want to use a mount, you have to send your horse away before using a seal.

From level 75 in Grotto of Exile can be dropped

Rotten Wooden Box as Alternative Drop.
From this chest you can get:

If you open these chests, it contains the seal from the corresponding chest:

With these seals you can call a mount. You can also use Control+G to summon the mount
Each seal can be exchanged at Heuk-Young, for example, if your Level is too low.
Wild Boar
From level: 75
Seal: Wild Boar
Bonus: Defence +75
Tradeable
Wolf
From level: 80
Seal: Wolf
Bonus: Defence +100
Tradeable
Tiger
From level: 85
Seal: Tiger
Bonus: Defence +125
Tradeable
Lion
From level: 85
Seal: Lion
Bonus: Attack Value +200
Tradeable
Special Mounts
The origin of all mounts can be found on the respective seal page.
Most mounts cannot be traded.
Some mounts have a Set Bonus.
You can Transmutate mounts (skin) by Theowahdan.
White Lion
From level: 1
Seal: White Lion
Bonus: EXP +30%
Not tradeable
Wild Battle Boar
From level: 20
Seal: Wild Battle Boar
Bonus: Strength against monsters +20%
Tradeable
Fight Wolf
From level: 20
Seal: Fight Wolf
Bonus: Chance of critical hit +10%
Tradeable
Storm Tiger
From level: 20
Seal: Storm Tiger
Bonus: Chance of critical hit +10%
Not tradeable
Battle Lion
From level: 20
Seal: Battle Lion
Bonus: Defence +10%
Not tradeable
Royal Tiger



From level: 1
Seal:
Royal Tiger
Bonus: EXP +30%
Tradeable
Equus Porphyreus
Comet
From level: 1
Seal: Comet
Bonus: Movement speed +60%
Not tradeable
Polar Predator
From level: 1
Seal: Polar Predator
Bonus: Movement speed +60%
Not tradeable
Armoured Panda
From level: 1
Seal: Armoured Panda
Bonus: Movement speed +60%
Not tradeable
Nightmare
From level: 1
Seal: Nightmare
Bonus: Movement speed +60%
Not tradeable
Unicorn
From level: 1
Seal: Unicorn
Bonus: Movement speed +60%
Not tradeable
Leopard
From level: 1
Seal: Leopard
Bonus: Movement speed +30%
Not tradeable
Black Panther
From level: 1
Seal: Black Panther
Bonus: Movement speed +30%
Not tradeable
Muffin
From level: 1
Seal:
Muffin
Bonus: EXP +30%, Movement speed +20%
Muffin (Pink) is giving an additional Strength against monsters +15%
Riding time may vary between the seals
Not tradeable
Nugget
From level: 1
Seal:
Nugget
Bonus: EXP +30%, Movement speed +20%
Nugget (Navy Blue) is giving an additional Strength against monsters +15%
Riding time may vary between the seals
Not tradeable
Black Horse
From level: 1
Seal: Black Horse
Bonus: Movement speed +60%
Not tradeable
Blitzen
From level: 1
Seal: Blitzen
Bonus: EXP +30%, Movement speed +20%
Not tradeable
Donner
From level: 1
Seal: Donner
Bonus: EXP +30%, Movement speed +20%
Not tradeable
Kyzaghan's Horse
From level: 1
Seal: Kyzaghan's Horse
Bonus: Max. HP +1500, EXP +5%, Movement speed +20%
Not tradeable
Nirvana Dragon
From level: 1
Seal: Nirvana Dragon
Bonus: Max. HP +1500, Movement speed +20%
Not tradeable
Samsara Dragon
From level: 1
Seal: Samsara Dragon
Bonus: Max. HP +1500, Movement speed +20%
Not tradeable
Manny
From level: 1
Seal: Manny
Bonus: Max. HP +1500, Strength against monsters +15%
Not tradeable
Ellie
From level: 1
Seal: Ellie
Bonus: Max. HP +1500, Strength against monsters +15%
Not tradeable
Brown Battle Tulu
From level: 1
Seal: Brown Battle Tulu
Bonus: Max. HP +1500, Movement speed +20%
Not tradeable
Black Battle Tulu
From level: 1
Seal: Black Battle Tulu
Bonus: Max. HP +1500, Movement speed +20%
Not tradeable
Lava Cave Lizard
From level: 1
Seal: Lava Cave Lizard
Bonus: Strength against monsters +15%, Movement speed +20%
Not tradeable
Ice Cave Lizard
From level: 1
Seal: Ice Cave Lizard
Bonus: Strength against monsters +15%, Movement speed +20%
Not tradeable
Magma Dragon
From level: 1
Seal: Magma Dragon
Bonus: Max. HP +1500, Strength against monsters +3%, Movement speed +25%
Not tradeable
White Rabbit
From level: 1
Seal: White Rabbit
Bonus: Strength against monsters +15%, Movement speed +20%
Not tradeable
Moon Bunny
From level: 1
Seal: Moon Bunny
Bonus: Strength against monsters +15%, Movement speed +20%
Not tradeable
Bernie
From level: 1
Seal: Bernie
Bonus: Max. HP 1500, Strength against monsters +15%
Not tradeable
Blue Barry
From level: 1
Seal: Blue Barry
Bonus: Max. HP 1500, Strength against monsters +15%
Not tradeable
Cerberus (Gold)
From level: 1
Seal: Cerberus (Gold)
Bonus: EXP +30%, Movement speed +20%
Not tradeable
Cerberus (Silver)
From level: 1
Seal: Cerberus (Silver)
Bonus: EXP +30%, Movement speed +20%
Not tradeable
Spectral Steed
From level: 1
Seal: Spectral Steed
Bonus: Max. HP +1500, Strength against monsters +15%
Not tradeable
Equus Nocturnus
From level: 1
Seal: Equus Nocturnus
Bonus: Max. HP +1500, Strength against monsters +15%
Not tradeable
Bloodwing
From level: 1
Seal: Bloodwing
Bonus: Max. HP +1500, Movement speed +20%, 5% HP Absorb
Not tradeable
Nyctalus
From level: 1
Seal: Nyctalus
Bonus: Max. HP +1500, Movement speed +20%, 5% HP Absorb
Not tradeable
Penumbral Steed
From level: 1
Seal: Penumbral Steed
Bonus: Strength against monsters 15%, Movement speed +20%
Not tradeable
Silverstar Steed
From level: 1
Seal: Silverstar Steed
Bonus: Strength against monsters 15%, Movement speed +20%
Not tradeable
Golden War-Ochs
Silver War-Ochs
White Sphinx
From level: 1
Seal: White Sphinx
Bonus: Strength against monsters 15%, Movement speed +20%
Not tradeable
Stone Sphinx
From level: 1
Seal: Stone Sphinx
Bonus: Strength against monsters 15%, Movement speed +20%
Not tradeable
Ice Raven
From level: 1
Seal: Ice Raven
Bonus: Strength against monsters 15%, Movement speed +20%
Not tradeable
Night Raven
From level: 1
Seal: Night Raven
Bonus: Strength against monsters 15%, Movement speed +20%
Not tradeable
White Winter Llama
From level: 1
Seal: White Winter Llama
Bonus: Strength against monsters 10%, Movement speed +20%
Not tradeable
Brown Winter Llama
From level: 1
Seal: Brown Winter Llama
Bonus: Strength against monsters 10%, Movement speed +20%
Not tradeable
Northwind Dragon



Seal 1: Greater Northwind Dragon
Bonus: Magic/melee attack +15%, Ice Resistance +20%
Note: This seal disappears 7 days after receiving




Seal 2: Mighty Northwind Dragon
Bonus: Magic/melee attack +15%, Ice Resistance +20%
Note: Disappears after 30 days pure riding time







All seals are not tradeable
Hasty Rabbit (Pink)
Hasty Rabbit (Blue)
Blood-red Kitsune
From level: 1
Seal: Blood-red Kitsune
Bonus: Strength against monsters 15%, Movement speed +20%
Not tradeable
Ice-blue Kitsune
From level: 1
Seal: Ice-blue Kitsune
Bonus: +15% Strength against monsters 15%, Movement speed +20%
Not tradeable
Red Artic Wolf
From level: 1
Seal: Red Artic Wolf
Bonus: +10% Strength against Metin stones, Movement speed +20%
Set Bonus available
Not tradeable
Blue Artic Wolf
Moonlight Seahorse
Sunlight Seahorse
From level: 1
Seal: Sunlight Seahorse
Bonus: Movement speed +20%, 5% Strength against Metin stones
Set Bonus available
Not tradeable
See also